Desktop iCalendar - Internet Desktop Calendar
Desktop iCalendar is a handy desktop calendar for Windows. It stays on your desktop and shows the days of the current month. It can sync your Google Calendar, Google Tasks or Yahoo! Calendar with your desktop, share calendars with your family and friends. It also uses high-quality fonts, looks pretty, and has lots of skins.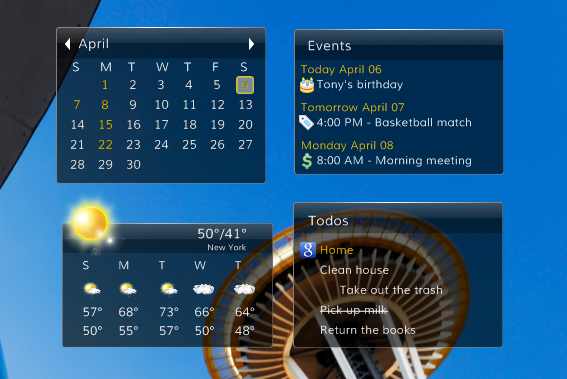 Organize, Share and Collaborate
Make your life more organized
Schedule your family and work is critical. Desktop iCalendar is easy to make your own plan and share it with your family and friends. With the calendar on desktop, you can review your schedule and appointments easily.
Never miss important things
Desktop iCalendar will remind you when important time is coming. It does not only save your money, but also save your time.
Make your plan with weather
With weather forecast of the coming week on your desktop, you can always plan ahead.
Show goals to everyone
For business groups, Desktop iCalendar can show group's events to everyone. Remind people of not forgetting their tasks.

Buy with confidence.
In addition to a free trial with which you can see if Desktop iCalendar is exactly right for you, we offer an unconditional 30 day money-back guarantee. If you're not absolutely thrilled with our software, we will refund you with absolutely no question asked.
Tutorial
A nice video tutorial done by Softoxi.com.