Destkop iCalendar Lite - Free Desktop Calendar
"The Best Free Software of 2012 - By PCMag.com"
Desktop iCalendar Lite is a free desktop calendar for Windows. It allows you to manage your events, to-do list on desktop and sync with Google Tasks . It allows subscribing public Google Calendar and iCloud calendar, such as holidays, election or NBA. It is full customizable. A build in skin editor makes it easy to set the skin by your own taste. Desktop iCalendar is full compatible with iCalendar standard, and can work with the calendars created by Apple iCal, Thunderbird Lightning, Sunbird.
More than one computer?
Please try the Pro Version. It allows you to sync desktop calendar with Google Calendar on different computers. It only costs $14.95.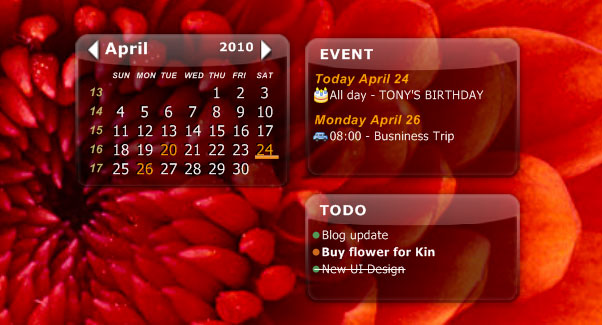 Download Lite Version Download Pro Version
Translation Help Needed!
If you'd like to help us to translate Desktop iCalendar to your language, please contact us.
Features of Desktop iCalendar
| Features | Lite | Pro |
| --- | --- | --- |
| Monthly Calendar | | |
| iCalendar Support (RFC 2445) | | |
| Local Weather Forecast | | |
| Subscribe public Google Calendar | | |
| Set icon for event | | |
| Sync events with Google Calendar | | |
| Dockable windows | | |
| Sync with Google Tasks | | |
| Edit offline Google Calendar | | |
| To-do List | | |
| Sync To-do list via Google Calendar* | | |
| Reminder for upcoming event | | |
| Sort To-do list | | |
| Hourly chime | | |
| Customize skin | | |
| Google SMS Reminder | | |
| Share Google Calendar with friends | | |