Power Favorites - Powerful Bookmark Manager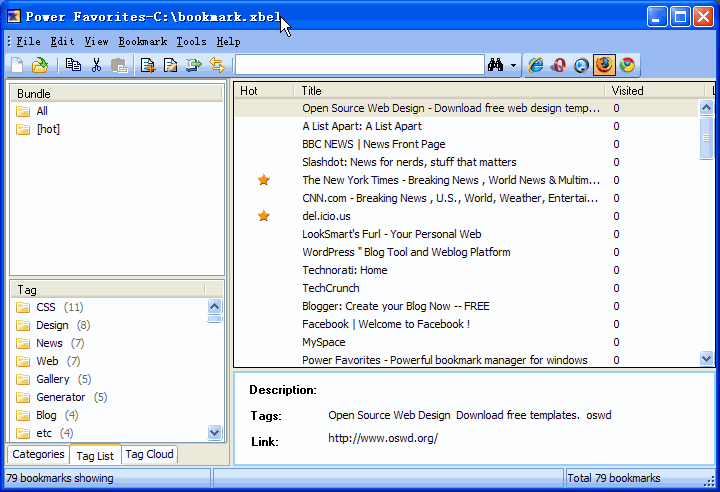 What's New
Added support for Google Chrome
Added count of visits for bookmarks
Added import bookmarks from Powermarks

Improved search speed
Features
Easy to manage thousands of bookmarks
Rapidly search large volumes of bookmarks.
Find new bookmarks in the Recent folder.
Navigate your bookmarks via tag cloud or tag list.
Take your bookmarks with you, everywhere.
Automatically synchronize bookmarks between computers
SSL support secures your privacy.
del.icio.us support for sharing bookmarks.
Auto-merge local bookmarks while synchronizing.
Detect dead links and duplicates in bookmarks
Rapidly detect dead links.
Rapidly find duplicates.
Select redundant bookmark automatically.
Launch bookmarks quickly
Browser-Independent - the same collection works with different browsers (compatible with all popular Windows browsers).
Quickly open your bookmarks via the Float Button.
Quickly add bookmark by bookmarklet
Make quick picks from the Hot List.
Access your bookmarks without opening a browser.
Easy-to-use
Seamlessly integrated with Internet Explorer and Firefox.
Auto-builds tags on import from Internet Explorer or Firefox.
Easy-to-learn explorer-style user interface.
---
Why use Power Favorites
Do you use several computers in the home and office?
Is it a pain to keep your favorites synchronized?
Have you lost valuable bookmarks after reinstalling your system?
Do you ever spend ages looking for a favorite from months ago?
Do you like to use different browsers to surf web?
Power Favorites helps you to solve these problems.
---
Power Favorites (formerly XBEL Bookmark Manager), is a bookmark manager for Windows that helps you organize and synchronize your bookmarks. It takes bookmarks from Internet Explorer, Firefox or Opera, merges them into one file, and automatically synchronizes them between computers. You can use it to detect dead links and duplicates if you have many bookmarks.
Each bookmark can be personalized with notes and tags. The fast, integrated search function makes it easy to locate your bookmark. The hot list and recent list folder allow you visit the bookmark you frequently visit quickly. You can also view your bookmarks by tag list and tag clouds, and easily share them or mail them to your friends.
For more information, see
How to sync favorites with Power Favorites
---
Testimonial
"Ease-of-use, syncing from multiple sources, tag clouds, and sorting features combine to make Power Favorites attractive and useful for any level user."
From Download.com Editor Review
"...its features are organized in the way that takes the best possible of in-browser bookmarks, online bookmarks service and stand-alone app..."
From 3d2f.com
---
System Requirements
File size: 1.4M

Supported OS: Win 2000/XP/2003

Special requirements: Internet connection, A delicious account